Kylie Jenner has been in the public eye since she was ten years old, but in 2016 when she launched her own cosmetics brand, she finally began to hold her own in the spotlight.
Of course, something that comes with every business venture that any of the Kardiashian/Jenners embark on, is bad publicity, and this was no different for the youngest of the clan.
From the very beginning of the brand, there has been constant backlash of everything that the young entrepreneur has launched. Not long after the first LipKit launch, beauty vloggers began to review the first of the products, and gave very honest, very brutal reviews.
Not only had the products themselves been receiving the awful feedback, the company itself had been getting dogged with complaints of missing products, with customers waiting months and months for their order to arrive, some customers even contact the Better Business Bureau (BBB) for advice. The BBB website actually displays information about the complaints it's received of different companies, and of the 136 complaints filed about Kylie Cosmetics, the majority fell under the categories of delivery issues and problems with the products. During this first major PR blunder, the BBB first rated them an F, which then changed to a NR (no rating).
Not exactly great PR for an up and coming business. The company has since had their rating improved to a B, but the negative reviews from customers still overpower the positive, out of 348 reviews, 199 of them are negative, a whopping 57%.
"I placed an order on 12/2/17 for the Koko set for my niece and they have yet to send it out. I have e-mailed them on the 7th but receive a generic response that didn't answer any of my questions. There is no customer service backing this product . I don't understand how they are at a B+?"
"I purchased the KoKo Collection lipsticks on 10/24 at around 9:22 p.m. After doing some research on the colors I decided they wouldn't be a good fit and at around 9:45 p.m. I emailed Kylie's customer service to cancel my order. I received a response on 10/27 informing me that my order was already placed and I couldn't cancel my order. I somehow was hopeful that I would be able to use some of the product if not all. Well yesterday (10/30) I received the ripped kit with used lipsticks which was clearly returned by another customer. I emailed customer service right away and provided pictures of the used lipstick tubes and broken package. Customer service got back to me today and notified me that they didn't accept returns of broken products! will be tossing these in the garbage and will never recommend this cosmetic line to anyone. Buying products online without being able to swatch them is difficult enough and risky on the consumer and therefore buying from a cosmetic line that doesn't do returns or refunds is ludicrous."
Other than the ongoing negative customer reviews, the company has had no major PR mishaps in the last couple years. Until now.
With the most recent launch of her brand involving an entire new range of concealers, lipsticks and a brush set, 2 out of 3 of the products have come under fire on the Internet.
https://twitter.com/uselessryan/status/938698996658216960
Firstly, a lot of the make-up community have criticized the make-up mogul for copying Rihanna's Fenty Beauty brand with the new concealers. Before the Fenty Beauty launch a few months ago, not many brands had put out products that was inclusive of all skin tones across the board, and this is why Kylie's concealers have had backlash. Many believe that Kylie has copied Rihanna's shade range. So, I suppose you could be criticized for worse things than being racially inclusive, right?
https://www.instagram.com/p/Bcr6IByFRYn/?taken-by=kyliecosmetics
However, another criticism of the same product is that Kylie Cosmetics is developed in the same factory as much cheaper e-commerce brand ColourPop, so many are slating the concealers for being the exact same as the ones ColourPop released not so long ago, just with Kylie's name on it.
Y'all know Kylie cosmetics line is just colourpop with her name on it right?? These are the same concealers they put out months ago… pic.twitter.com/lXAxg8HId1

— hot girl dev (@homodemon_) December 7, 2017
Kylie Cosmetics, for the first time since launching in 2016, also released set of brushes, sold separately and as a collective on the website. The collection includes 16, silver/chrome "real hair" brushes, which according to the reviews made by beauty vloggers in the last week, perform well. Although, the thing on everyone's mind is not how they perform, or how they look, it's the whopping $360 price tag.
https://www.instagram.com/p/BcbSf_CFVJt/
Controversial make-up artist and owner of cosmetic brand Jeffree Star Cosmetics, Jeffree Star published his very honest and brutal opinion of the brushes as soon as the brushes were available to purchase. In a review posted to his youtube channel, Star first of all, described the 'silver brush roll' that the brushes came in as 'tin foil'. He stated to his fans that for what you're getting, and paying $360 (plus tax and shipping), you're really paying for a over-hyped celebrity name.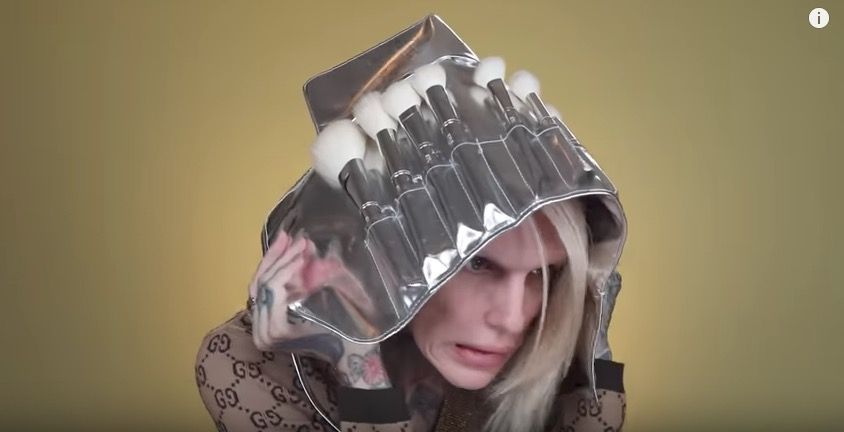 And many other YouTube famous make-up experts seem to agree with this opinion.
Kylie Jenner took to Twitter to defend the price tag, and compared her brush set to the sets released by legendary make-up brands such as MAC, Artis and Kevyn Aucoin, which actually made things worse for Kylie, as many believe someone who has only been in the make-up industry for a few years, simply cannot compare her products to those luxury brands that have been around for a lifetime.
I have developed for you guys the most amazing luxury brushes ever. I am very excited! Real brushes don't compare to synthetic brushes. Different performance/quality/everything. I am 100% down to do an entire synthetic line in the future which will ultimately be cheaper.

— Kylie Jenner (@KylieJenner) December 10, 2017
I always fight for the lowest price on all my products. Here are some other real brush lines for reference pic.twitter.com/mOxwmFJJcM

— Kylie Jenner (@KylieJenner) December 10, 2017
It would seem that Kylie Cosmetics, and maybe Kylie Jenner in general, need a PR professional, and stat.
Hollie Thomson is a final year BSc student in Communication Management and Public Relations at Ulster University. She can be found on Linkedin: https://www.linkedin.com/in/holliethomson/ or Facebook: Hollie Thomson