So today I continue my account of 'Burger Wars', what is Burger Wars you might ask? Burger Wars is the competition between McDonalds and Burger King. Two giants of the burger world, battling it out for the top spot. How do they do this? Well through their PR and Marketing Campaigns of course. Often making subtle references to their competitor or not so subtle in Burger King's case.
I wrote a post on my personal blog around a month ago, called 'A Day Without a Whopper' which you can find here. This detailed Burger King's decision to stop selling their famous 'Whopper' burger for the day in aid of their competitor McDonald's charity campaign. They told all their customers to go to McDonalds and instead buy a Big Mac as profits would go to charity. This came a few years after Burger King had tried to collaborate with McDonalds on the McWhopper, again for charity, but had been rejected by their competitor. Burger King just being charitable? I don't think so, these were very clever and well thought through marketing campaigns designed to make Burger King look like the bigger person in this clash of titans.
So what's happened since?
Well I have personally been seeing a lot on Twitter and LinkedIn about various PR and Marketing Campaigns from the giants – both good and bad. So I thought it was only fair that I summarise my findings in a blog post on the latest in this saga.
Genius Marketing
McDonalds – It's Not the Same Without the 'M'
This campaign in particular I have seen widely shared across LinkedIn over the past week and it's one that stuck with me proving how successful it was. McDonalds decided to stamp their branding in some of the busiest places in the world – Airports. Removing their signature letter 'M' for the titles of many well-known countries and simply using the slogan 'It's Not the Same Without the M'. One thing I loved about this campaign was this simplicity, it's eye catching and straight to the point, you automatically known what brand it's for and it makes you think of McDonalds. I know after a long flight, often the first thing I want is a quick and easy meal, so I think the positioning here is great.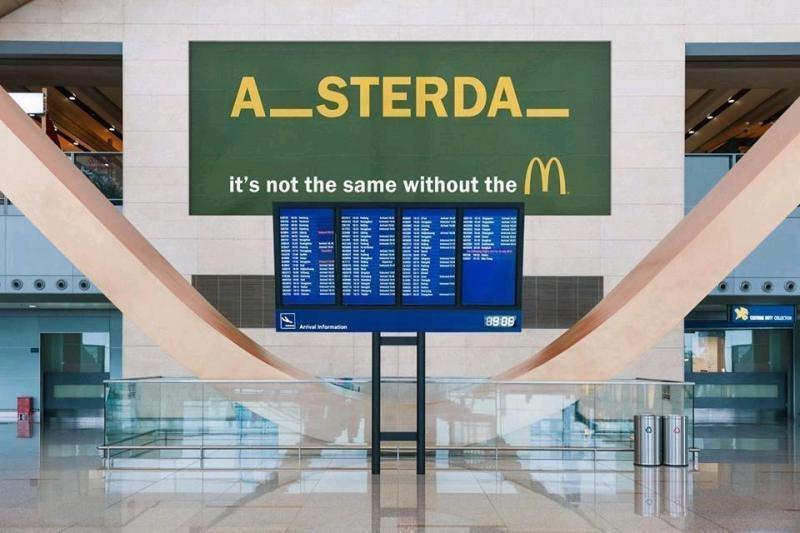 Burger King – The Meltdown
Burger King decided to get on board with sustainability and vowed to stop producing plastic toys in its kid's meals, as part of an aim to save 320 tonnes of single use plastic. The fast food restaurant now also offers a service where you can bring in your old plastic toys to be melted down and the opening week of this promotion you would receive a free kid's meal in return for doing so. In typical Burger King style, they didn't miss the opportunity to take a jibe at McDonald's by stating their toys where 'especially' welcome in their promotional video. For me this is a huge win for Burger King, climate change and sustainability are such a talked about issue at the moment and this is the type of reaction we need from big brands and corporations.
PR Fails
McDonalds – 'Bloody Sundae'
I'm sure most people have heard about this by now as it's been highly reported on and sensitive issue, especially in Northern Ireland. But McDonald's were the subject of a huge PR Fail, over a Halloween promotion of their Ice Cream in their Portugal stores featuring the slogan 'Sundae Bloody Sundae'. McDonald's has since issued a public apology stating that the campaign was not intended to reference historical events and that they sincerely apologise for any offence caused. However, this has not stopped residents of Northern Ireland and further afield being highly and rightly upset by the campaign.
Burger King – Milkshake Tweet
Burger King came under fire with the ASA recently about a tongue and cheek tweet stating 'Dear people of Scotland, We're selling milkshakes all weekend. Have fun." The tweet came as a response to McDonald's stopping selling milkshakes at the request of the police, due to politicians such as Nigel Farage being 'milkshaked' (having a milkshake thrown over them in the street). The ASA stated that they considered that the ad encourages 'anti-social behaviour' and banned the tweet.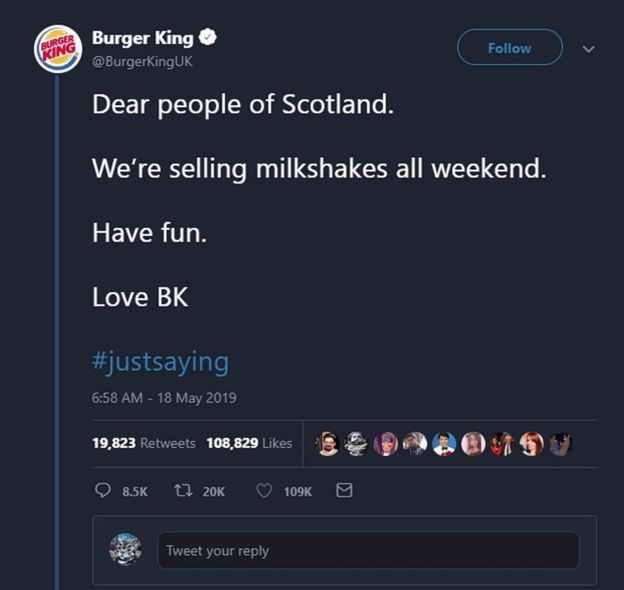 So who's winning here?
In my eyes Burger King have the lead here, I love how reactive their PR and Marketing is and their constant focus on current issues. I think their constant 'trolling' and responding to McDonald's is pretty humorous and clever and gives them the upper hand here.
Hannah Chambers is a final year BSc in Communication Management and Public Relations student at Ulster University. You can find her on – Twitter: @HannahC_PR  and LinkedIn: Hannah Chambers