Earlier this month, Iceland unveiled their Christmas TV ad for 2018 in partnership with Greenpeace which told the story of 'Rang-tan', an Orangutan seeking refuge after humans had destroyed his home and killed his mother in pursuit of Palm Oil. The poignant, ethical and yet simple animation had high hopes to deliver a clear message to viewers over the Christmas period and Iceland had a £500,000 media spend across TV channels to really help push the ad. However, on release it was announced that the ad was banned from TV after being deemed "too political".
So where did it all go right?
In most instances I can image that getting your ad banned from TV would be a disastrous backfire of hard work – a very deflating feeling. But by the looks of things, the opposite can be said for Iceland.
After posting their ad to their Twitter page and letting the public know that the ad had been banned for being "too political", there was a public outcry and people tweeted in their thousands protesting the ban. Even celebrities such as James Corden and Stephen Fry tweeted the ad which now has 17m views on Twitter.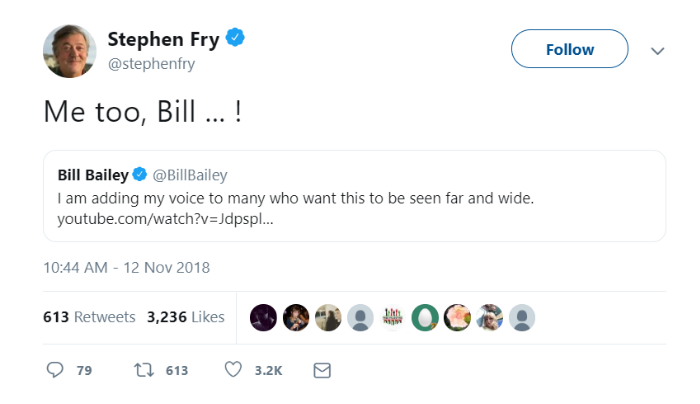 The response to the ban was massive and according to Iceland's Managing Director, Richard Walker – unexpected. Despite claims that the company knew all along the ad would be banned, Richard Walker stated, "We went into this with a straight bat and I genuinely thought this [the advert] was going to get past." Perhaps this was for the best. Since posting, their original tweet has 92k retweets, 4.4m YouTube views and a petition to get the ad that has been signed by 670,000 people. It has tripled the views from last year's ad and created an audience of somewhat unexpected vocal advocates in support of Iceland and what they stand for. Done deliberately or unexpectedly, the video packed a punch in terms of reactions.
IT'S A FRONT!
Iceland have come a long way from their TV ads featuring the latest B-list celebrity standing in front of a ridiculous spread of party food, aiming to persuade us to buy a frozen pig wrapped in a chicken and bacon blanket and served in a vol-au-vent. Those days are behind them. I imagine the company look back at that time in their business lives in the same way we look back at old profile pictures.
But what's with the new image? Why aren't they focusing on frozen sausage-stuffed asparagus? What about our platters? Where's Coleen Nolan? What's changed here? Is Iceland breaking up with their old image? Well, yes.
When I first watched the ad I thought "Hmm, yeah it's good but why do Iceland care?" This thought was a shared one with many people claiming that Iceland taking an ethical stance to their business was all a front to attract a new demographic of customers. A PR smoke-screen for sales. But I've come to learn that that actually isn't the case.
Environmentalism isn't just for Christmas
Iceland have been publicly talking about the plight of orangutans for most of the year and became the first UK supermarket to vow to remove palm oil from every item in their own-brand food label by the end of 2018. Earlier this year, they also released a stream of video footage of how palm oil was destroying orangutan's natural habitat:
http://www.youtube.com/watch?v=sNjHzoNnL70
The videos were part of the #PalmOilAlarmCall hashtag (similar to their #NoPalmOilChristmas hashtag) and for everyone who shared the hashtag on social media, Iceland promised to donate £1 to International Animal Rescue to fund rescue and care for orangutans left 'homeless'. Their vow to remove palm oil from their products is expected to reduce the demand for the product by 500 tonnes a year.
On top of this, Iceland have been a leading retailer in banning single-use plastics. In January, their #TooCoolForPlastic campaign drew attention to the fact that they were the world's first mainstream retailer to fully remove plastic packing from all of its own-label products by 2023. Who thinks it's a front now?
Their commitment to sustainability is quite clearly not a smoke-screen but a solid foundation that they continue to build on. Their determination to lead the way into environmentally friendly business practices is admirable and something I expect other major retailers will soon follow. Iceland have set a sustainability benchmark and not just because it will make them look good, but because it is right.
Overall, whether you think it was a cunning plan as part of a marketing masterpiece or a backlash that turned out for the better, you can't deny what Iceland have actually done. They have opened up an umbrella of conversations about the ethicality of companies, what's in our products and what is the true price we pay for everyday items.
Our attention has been got. Everyone is listening.
Being banned wasn't so bad after all.
Scout Dobbin is a third year BSc in Communication, Advertising and Marketing student at Ulster University, currently on placement as a Marketing Assistant. Scout can be found on Linkedin – Scout Dobbin, on Twitter – @scoutdobbin or Instagram – @scoutdobbin