Cleaning.
A chore for many and a hobby for some.
As sad as it might be to say cleaning is something I enjoy, you can't argue that a clean, clutter-free environment is not a pleasant place to be.
Maybe these thoughts are a foreign language to some. But if you can in any way appreciate this perspective, perhaps you'll understand the joy that a visit to the cleaning product aisle in the supermarket brings (and maybe, you'll have even experienced it yourself!)
Or maybe, that's the most ridiculous statement you've ever heard.
However you feel about it, I know that my feelings are no longer the same, for reasons I never considered to be an issue.
After spending 7 months in the domestic cleaning industry I can no longer look at cleaning products with the same heartfelt appreciation I did once before
Besides that fact (without going into the details) that it is not an enjoyable part-time job
It's certainly not something (as I 've learnt from experience) that's good for your health.
Physical activity every day ✅ (maybe that shouldn't be considered the worst part)
Breaking your back trying to haul Henry the hoover in and out of homes/up & down stairs ✅
Breathing in harmful chemicals ✅
I would never have imagined that the amount of energy being exerted could be negatively affected by the toxic fumes exposed by every bottle
Maybe I missed the part where they educated me about this in my childhood.
Maybe I've just lost the plot entirely.
Yes, I know certain chemicals shouldn't be mixed,
Yes, I know bleach should be kept far away from children,
Yes, I know that there are specific chemicals that should be used with precaution even in small, diluted quantities.
But when everyday cleaning products are used every day and they begin to have adverse effects on your health?
I'll admit maybe when it's your job you're using them more often than the average human concerned with keeping their home smelling fresh and countertops bacteria free.
But still.
Google has a lot to say on these issues and you can check it out for yourself.
I just know that when I began to cut back on using cleaning products completely I found that water and equal elbow grease left the same impression.
Could it all be just a marketing ploy?
Do cleaning products really make a difference to the cleanliness of your home?
Or do they just pollute your environment with toxins to give you the impression of a clean home?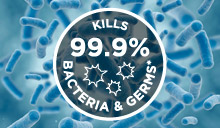 You can argue with the experts.
I just know I'm no longer as eager to try out the newest scent in the Zoflora concentrated disinfectant range or Febreze's newest collection of holiday scents for Christmas.
If you're particularly keen, Pinterest is the best place to pick up natural cleaning hints and tips on how lemons and vinegar will do the same job at a fraction of the price.
Rachel Henry is a final year BSc in Communication, Advertising and Marketing student at Ulster University. She can be found on Linkedin at: Rachel Henry