How KFC used a crisis as a marketing ploy by controlling the narrative.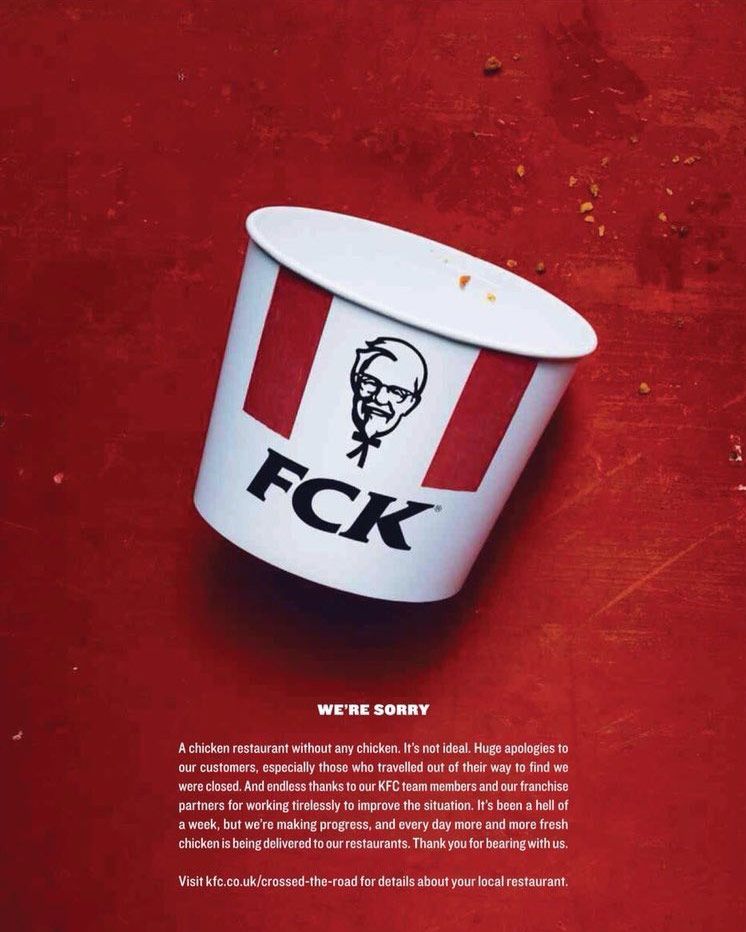 Disaster struck KFC in February 2018 when supply issues lead to the fast-food giant running out of chicken. The fried chicken chain switched its delivery contract to another company which led to "operational issues" for the supply distribution. This meant that chicken couldn't be delivered to restaurants across the UK and Ireland. KFC had to close more than half of its 900 outlets because delivery issues meant they had run out of chicken. Quite embarrassing when chicken is in their name (literally).
KFC (Kentucky Fried Chicken) is the world's second-largest fast food chain (after Mc Donald's) which specialises in fried chicken. The franchise has nearly 23,000 locations in 150 countries, 900 of which are in the UK. The company were suffering and were under a lot of scrutiny in the press and media. How could this have happened to such a global, successful chain? It was estimated that KFC were losing minimum of £4.2 million a week in supply chain debacle. The news was on every major platform and many customers were left disappointed and angry. 71% of the UK population visits KFC at least once a year, and nearly 24% eats in its outlets on a weekly or monthly basis. With the scale of its audience so vast, it required an efficient solution.
From the outside looking in, this looked like the perfect recipe for disaster. However, KFC saw an opportunity in this crisis. The spotlight was on them, so they decided to take control.
The first thing that KFC did was make a public announcement on Twitter to inform the public of their error. They owned up to the problem, even when they had an opportunity to blame their new distributors. KFC easily could have deflected blame, but they took full responsibility for the issue. They simply described the distributer complications as "having a few teething problems".
KFC did this as they knew that by owning up to their problem their customers would respect their honesty. By doing this it also meant that KFC had full control of the issue as it came out. They made the announcement quickly before any rumours or speculation could take place. KFC were able to control how the message was perceived and illustrate the problem in their own words. Twitter immediately exploded with pictures and clips expressing the nation's shock that KFC was out of its staple item.
KFC used humour in their messaging towards the press and on their social media accounts to deliver light-hearted and informative messages, to the public and their customers. "The chicken crossed the road, just not to our restaurants," KFC said on Twitter.
Humour was truly the coping mechanism to this crisis.
KFC knew that this crisis was a short-term inconvenience for customers. They knew that this wasn't a corporate damaging scandal, which they could never recover. This was a was mistake that would be easily be fixed over time. So, their communication was light-hearted and used comedy to deflect the seriousness of the situation and maintain a positive public image.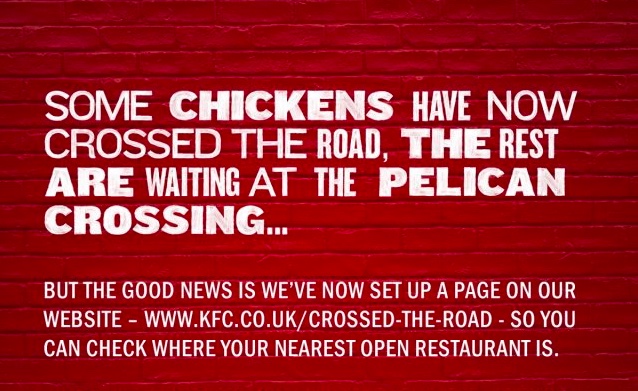 In a business crisis, the press statements and crisis responses from the business will usually come from the top, e.g. the CEO or managing director. In this case, all of the responses came from "the colonel". KFC was indeed founded by the colonel, but over 90 years ago and his face remains the logo and mascot of the company. By "the colonel" making these humorous announcements, KFC were able to control the narrative of their crisis in a humorous way. By playing down the crisis as a joke, it made customers relax and feel able to make a joke about it as well. While being humorous, they also provided a clear and transparent explanation of what was being done to fix the issue. The public responded positively to KFC's approach, and gave positive feedback and online interaction and KFC responded to many of their comments. This humour created a sense of unity, as customers were missing KFC, and KFC were missing its customers. This led to humorous tweets from customers as well.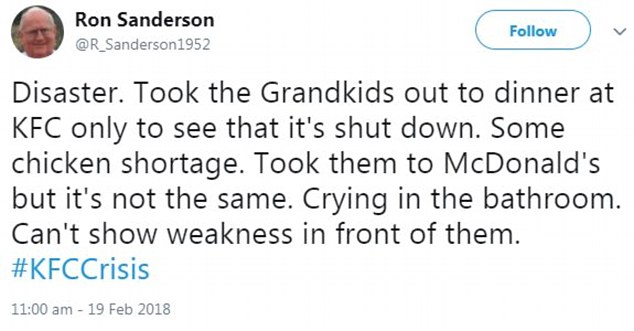 The crisis management was so successful, the crisis almost looked orchestrated. KFC used this time in the spotlight to engage with customers and get the public talking about the brand. They created the #wheresmychicken on their social media account, which created attention towards their restaurant's products. On 21 February alone there were 53,000 mentions of KFC running out of chicken, alongside hashtags such as "#ChickenCrisis" and "KFCCrisis". The media attention and positive response to KFC's humorous messages to the crisis led to a huge increase on their social media platform.
Despite their confident and humorous appearance online, Meghan Farren, KFC's chief marketing officer for the UK and Ireland, later in the year said that "At the time, our business was, to be honest, on its knees." Despite the huge financial loss and customer dissatisfaction that KFC was experiencing, they maintained a strong relationship with the public, by constantly creating content and engaging with them. KFC updated their Twitter feed and their microsite constantly to keep the public and their customers apprised. Additionally, they created Q&As to address their audience's most common inquiries. KFC also created a special microsite were customers could locate their nearest open store.
They even ran an ad that contained an apology, again using humour with mixing up the letters in their name to read "FCK" on an empty KFC chicken bucket. This was quite a bold campaign, which furthermore drew in a lot of media attention. However, this was well received by KFC customers and the public.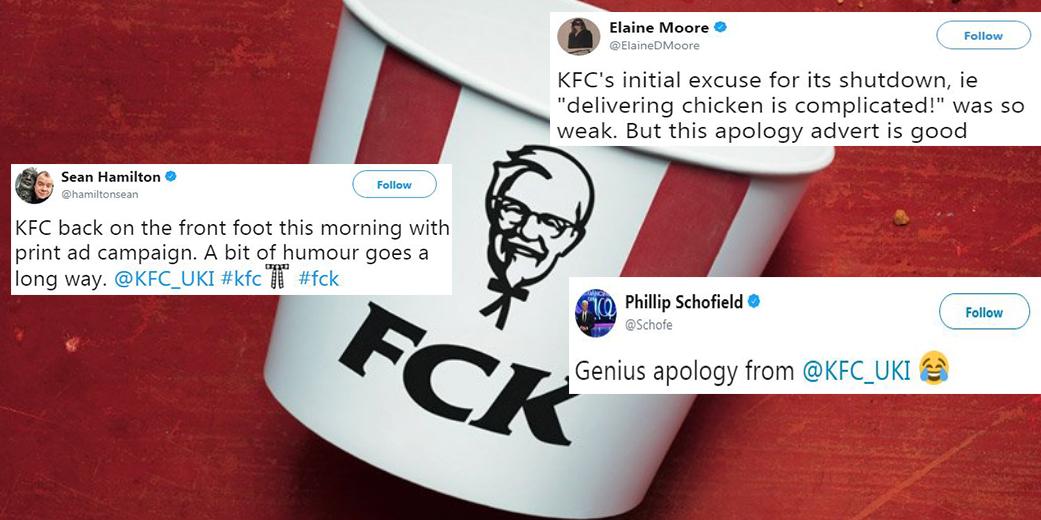 KFC used the crisis to their advantage giving their customers a reason to visit their restaurants once it reopened. The management of this crisis was used as a marketing ploy as it received such positive responsive online. KFC had the limelight and used the media interest and attention to create a customer desire for KFC's products.
KFC successfully turned traditional crisis management on its head by avoiding a serious corporate apology and formal statements, and instead using their mascot to create a social media marketing poly. They turned their crisis into a perfect mistake by controlling the narrative through humour and honesty. They used media attention to there advantage by promoting there brand and creating a positive relationship between the business and the public.
Now that really is the perfect crisis.
Ciara Hughes is a final year student at Ulster University studying BSc Communication Management and Public Relations. She can be found on: Twitter, LinkedIn, and on her website: ciarahughespr.wordpress.com