I can still remember the days, when applying for a placement position, wondering what the year ahead would hold. I had always worked in retail and hospitality and had no idea what working in an office environment would be like, let alone working in a Marketing and Communications role.
When I received the news, I had been offering a place working for Newry, Mourne and Down District Council I was ecstatic. I began picturing what the year ahead would look like… I for some reason did not think that my year would be interrupted by a global pandemic.
The first few months of the job were fun but also a little nerve racking. But by the time Christmas came I felt like I was finally beginning to find my feet. I was getting along well with colleagues and taking every opportunity there was to expand my knowledge. My main role involved managing the Council's social media page and website. I got to spend time learning how to create content, in the council's house style, and how to manage the back end of the website. I already felt like I was going to go back to University with so much more experience than the previous months, when I was applying for jobs.
I also decided to reach out to my manager and asked if I could help in other parts of the department. As I was working with a small team, they were more than happy to train me up to give a helping hand. This is where I then got to the opportunity to learn how to coordinate with professional designers to help design leaflets, banners, and social media icons. The Council provided training courses such as a Proof Reading class, a How to Write a Press Release and a How to Write for Social Media course, which I choose to participate in, to help continue to develop my skills, (I may have also missed being a student a tad).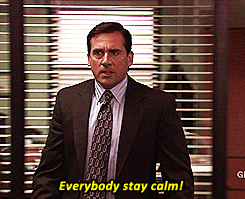 But once March 23rd hit it felt like I was starting my placement all over again.
While most of the other departments in the council began to die down, as the world began to close, the Marketing and Communications team at Newry, Mourne and Down District Council were more active than ever (as I'm sure the Communications teams at other Councils were too.) But with a small team of 4 plus me, to handle social media, press, internal and external communications and design. The pressure was on.
One thing I had not realised before working in the council, was that the Marketing and Communications teams are key players in certain organisations, when it comes to emergencies. Especially public organisations. The council's marketing and Communications team are the main correspondents between the public and the council.
Like most offices we were told to work from in March (thinking that this was only going to be for a month or two I didn't mind this much).
But this meant my role was no longer the 9am-5pm job I had been working the previous 7 months. This was because we had to wait for Government announcements to be made. Meaning I could no longer plan the social media posts for the week, they had to go our as the news and decisions came in. It also meant that instead of writing posts for Easter, spring or summer events, and community group classes, I got to share new COVID-19 updates and campaigns to prevent the public making unnecessary journeys. (Exciting, I know!)
The requests for putting items onto the webpage went from 2 or 3 a week to at least three every day. ALOT of these posts where informing the public what building or public area was going to close next. As you can imagine I was no longer getting to be too creative with my tasks.
However, I was learning what time management really had to look like. (And that lunch time wasn't always going to be at 12pm..)
Don't get me wrong working from home wasn't always terrible. There was some benefits to this; I got to sleep in an extra hour, I saved A LOT of money on travel (I was usually driving 60 miles a day), and I got to have a freshly made lunch instead of a quick microwavable meal and spend some lunch times in the sun and with my dog.
But I still missed the office environment, I missed the craic in the office, people asking how my weekend was and vis versa, and not only being able to talk to said dog.
It was also hard being a student in the workplace, usually if I had questions about my tasks, I could turn to any of my colleagues and ask for help. This wasn't as easy at home, people had kids to look after and everyone was working different times, although they were a quick phone call away, it was checking to see who was available to call and when.
Despite the negatives though, I was truly lucky to be kept on at a time when many were loosing their jobs. It was an experience that I truly learned from. It was definitely not the experience that I expected, I learnt the importance of a Marketing and Communications team and watch an emergency communications plan come to life. I had finished my placement feeling a lot more confident about the year ahead and the dreaded job hunt after graduation.
Keela Costello is a third year BSc in Communication Management and Public Relations student at Ulster University. She can be found at LinkedIn