The word "unprecedented" is everywhere. Cardi B warbling "Coronavirus" is on repeat in my head. Each day is rolling into the next and every now and again, I have to forcibly relax my jaw after realising I've been anxiously clenching my teeth.
I'll stop there… while quarantine has been an unusual transition, I'm definitely feeling very grateful for my health and loved ones during "these strange times" (another *very* popular phrase).
Something that has been helping though, is seeing the creativity and innovation that has been sparked by brands as a result of lockdown. Humour can be tricky to get right during a crisis but can also be a great outlet and distraction from all the scary news that's clogging up every social media platform at the moment.
Here are some brands I think have nailed it on the head with humour and creativity.
Ryan Reynolds & Mint Mobile
Filmed in the style of many Zoom quizzes and virtual meetings now taking place across the world, this gave me a proper chuckle. The ad titled "New ManageMint" opens with Reynolds appearing to be recording from his laptop as he introduces a slideshow, poking fun at himself and his movies throughout.
The actor sarcastically tells us "instead of using the magic of film, I'm gonna use the magic of slides!" I love this light-hearted ad and how it gets the brand's message of low-cost mobile service across in a fun and creative way. Definitely worth a watch!
Whassup Bud
"WAZZZAAAAA" was to 1999 what the Go Compare opera man is today. It's one of the first ads I remember seeing as a child. I don't think I even knew it was from an ad at the time? I just remember everyone shouting WAZZZAAAA at each other, quite often in a context that didn't make sense (E.g. Q: "Well, what's new with you?" A: "WAZZZAAAA"). Turns out it was an ad for Budweiser! And now, the beer brand has repurposed the ad to reinforce the message of staying home and social distancing during the Coronavirus lockdown.
https://youtu.be/D9UahJH5r3k
Emily Crisps
It isn't a fantastic time to launch an outdoor advertising campaign, given that no one is leaving their house these days. This was the problem snack brand Emily Crisps faced when they realised their first OOH advertising campaign was going to be seen by a lot less eyes than they had initially planned. Despite the challenge, the brand turned it into an opportunity to express humour and get their personality across by changing the creative a little.
Initially, the message was to "ditch dull, eat bold" referring to the fact that most crisp brands look similar to the standard red, green and blue packaging. Instead, Emily Crisps have kept he "eat bold" slogan for their OOH campaign, while making fun of themselves too. One of the digital executions reads "Our first ever poster, seen by a runner and one pigeon. Typical." Another says "Do an ad when it's warmer, they said… more people will see it, they said. Pffft…" and "Hmmm… maybe we should have made a TV ad instead".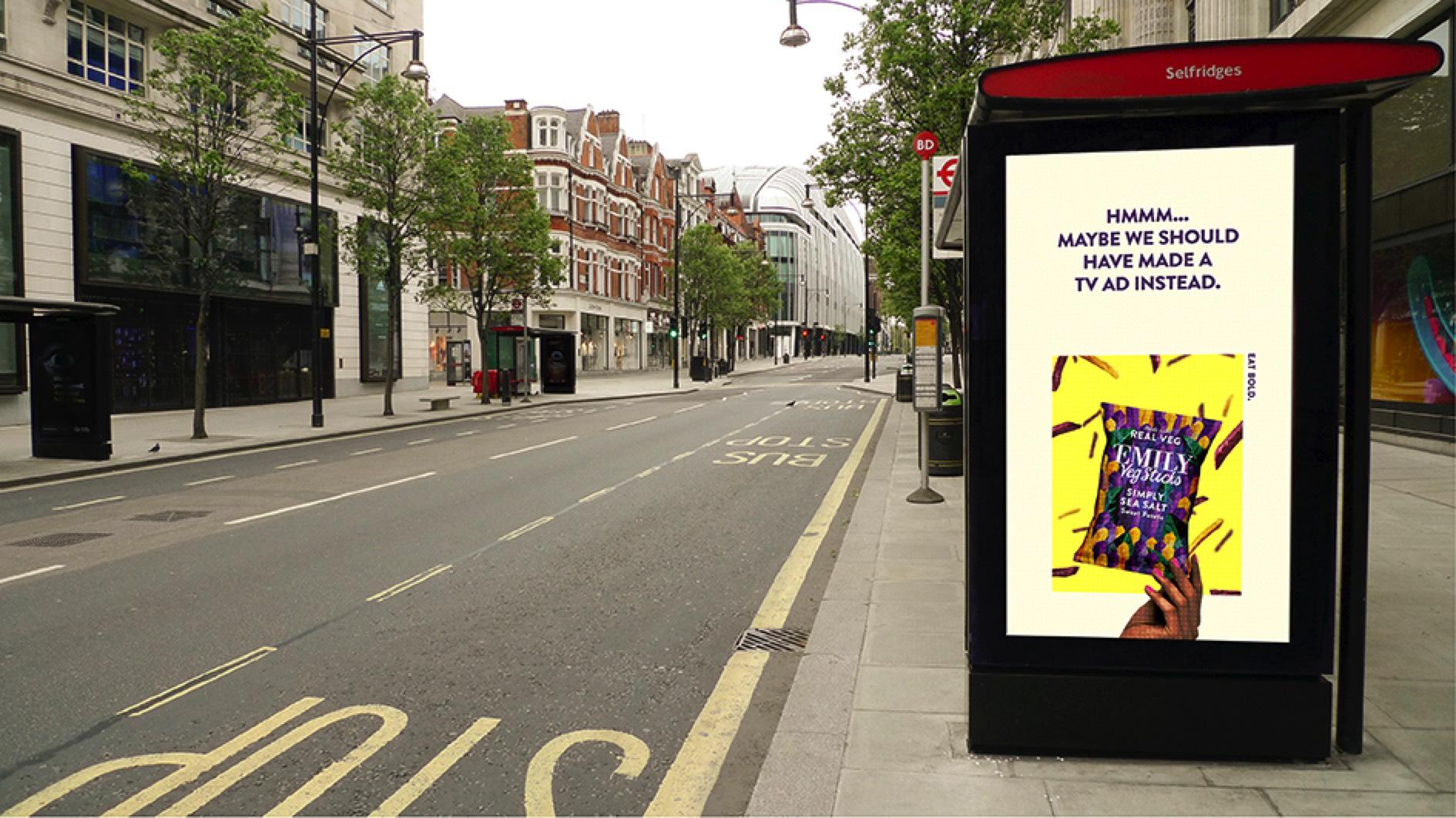 Coronavirus (cue the Cardi meme) has altered our lives in every way imaginable and it has been a really difficult time for a lot of people. Seeing brands harness their creativity and rise to the challenge that lockdown has brought, has been incredibly inspiring.
I do believe that a pinch of humour (when used in the right way) is a great way for a brand to show their personality and ultimately create a unique form of engagement with their customers. It lets us see the human faces behind the Big Corporation mask and in this case, reminds us that these brands are going through the challenges of Coronavirus along with us.
Ciara Madden is a first year BSc in Communications, Advertising & Marketing student at Ulster University. She can be found on LinkedIn: https://www.linkedin.com/in/ciara-madden-29ab7318a/