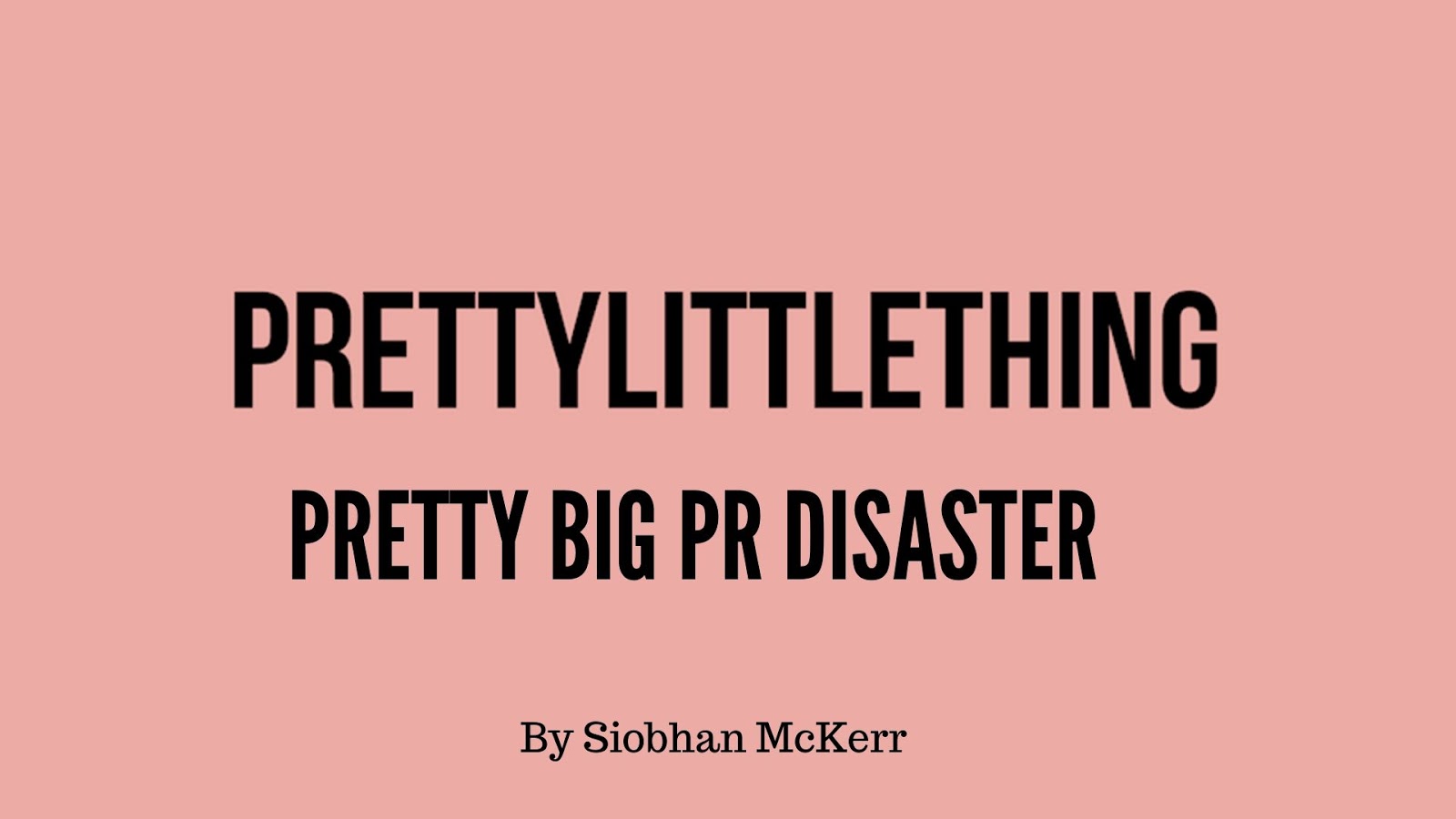 I am sure if you are a fashion follower of any sort, you will have seen that Pretty Little Thing products have been exposed….
The fast fashion clothing company Pretty Little Thing rarely ever has many scandals from what I have seen. They seem to just be constantly building on their reigning empire, gaining more celebrity collaboration, more customers and ultimately more money… until recently, when their empire hit a bump in the road, when they were subjected to a case of FAKE NEWS.
A Facebook post was published by a PLT customer who had a look through the company terms and conditions on their US website to find this…
This post went viral, now having approximately 25k shares on Facebook and thousands and thousands of Twitter threads discussing the issue. 
When I first seen this my instant reaction was shock…I couldn't understand why a massive company like Pretty Little Thing would have chemicals in their products that were known cancer, reproductive harm and birth defects, and why it was just point blank in the terms and conditions without anyone knowing of this before. 
Disgust spread across the Internet, with many people putting up their own social media posts expressing their concerns and spreading the word to 'Boycott Pretty Little Thing'. 
However, others were quick to fight back and defend Pretty Little Thing. Those who looked further into the statement within the terms and conditions discovered the truth.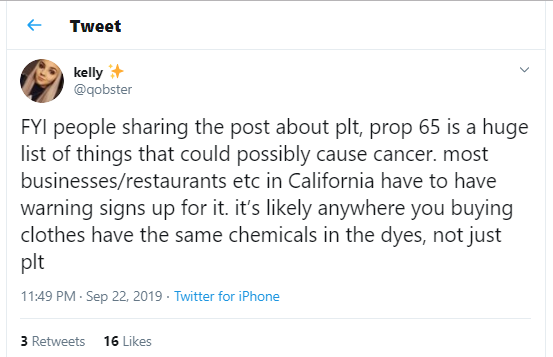 The truth is that this warning was required due to a new law in the California, called Proposition 65, which requires all companies in California must provide warnings of 'significant exposure' to chemicals that cause cancer, birth defects and reproductive harm. However, it is highly unlikely that PLT clothing could contain sufficient amounts of these chemicals to cause harm at all. 
In fact, it is not the only clothing company that has used this warning, ASOS and Fashion Nova also have this warning within their company terms and conditions. 
Due to the first post going viral, many other customers and non-customers of Pretty Little Thing now had a negative outlook on the company, so much so that they posted about it on their social media and so on so forth, until thousands of people now thought that their PLT purchases were going to cause them harm, and so were suggesting that people do not purchase from the company any more. 
This lead to many articles posted containing FAKE NEWS. 
Fake news can have irreversible effects to organisations, it can change consumers image of a company, it can make them lose custom and can reduce their stock price. 
Public opinion is vital for companies in general, but especially online brands, like PLT, who build their reputation up online and gain a following of customers who have a high impression of the brand. 
Fake news can destroy this reputation, and if the brand is not strong enough, can also bring down the company. 
Luckily enough, I don't think this has had much of a significant effect to the Pretty Little Thing brand as they have continued to issue statements claiming that their products do not contain sufficient amounts of lead to cause the stated effects, however this may have planted a seed of criticism into the heads of consumers who may then go and shop at a competitor brand that does not have such warnings in their T&Cs. 
For me, as a shopping addict…I can safely say that I will be purchasing from Pretty Little Thing again without any hesitation. 
Siobhan McKerr is a final year BSc in Communication Management & Public Relations student at Ulster University. She can be found on: Twitter – @Siobhan_mckerr, LinkedIn: www.linkedin.com/in/siobhan-mckerr and Instagram: @Siobhan_mckerr.