Those of you who know me, know that I'm a little fashion obsessed! So when I heard about the Ulster PR Student Blog, I couldn't help but want to inject a few fashion and style posts into the blogosphere. I have previously enjoyed writing posts for my own blog & thought what better way to ignite the old writing flame inside me than to write a few posts for our own student blog!
I hope you enjoy! Dearbhail (@dervbrogan) xx
Belfast Fashion Week – The Runway Edit
A/W Fashion Week in Belfast could not have come at a better time following the recent  fire at Belfast's beloved Primark. The fire has produced a devastating impact on the footfall of shoppers in the surrounding area.
The fabulous spectacle that was 'The Runway Edit' took place in the beautiful St Anne's Cathedral, right in the heart of Cathedral Quarter and showcased some beautiful on-trend pieces from both global and local retailers and was just what Belfast needed to encourage locals to 'stay shopping'.
#OOTN (What I Wore)

:
As it was my first Belfast Fashion Week you can imagine how hard it was for me to decide what to wear. Do I go 'classic and chic' or just plain 'all out there'? I'll let you decide on that one. My top, skirt and bag are all from Topshop, which I paired with with this AMAZING trucker jacket from Boohoo & these slick boots that I picked up on sale in Primark for £3 a few years back!
What THEY (the gorgeous models) Wore:
The show, hosted by Cathy Martin (CMPR) & Tiffany Brien (Influencer), kicked off with a fabulous directors cut showcasing all of Cathy's (@cathymartin10) top picks for this A/W season including pieces from River Island, M&S and one of my all time favourites Stradivarius.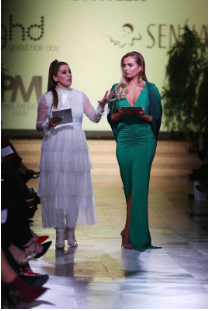 Left: Cathy Martin & Tiffany Brien host the Runway Edit
Right: Joy modelling Red Tartan Trench Coat – Stradivarius £69.99
Left: Veronica modelling Topshop fuscia velvet suit jacket £49 & trousers £39
Right: Sophie modelling Lazy Oaf yellow fur coat £150 with ASOS yellow scarf
Left: Rebecca modelling ASOS green puffa jacket, ASOS green scarf, Topshop tapered green trousers
Right: Nuala modelling ASOS lilac corduroy trousers £45, jacket £60, lilac pussy bow blouse
Some for the party girls (or boys, whatever tickles your fancy):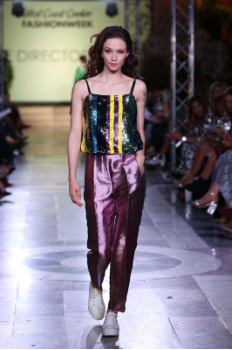 Left: Joy modelling ASOS metallic pink trousers, Zara sequin top
Right: Ellen modelling Missi paillette body suit £26.99 DV8, River Island rose gold pencil skirt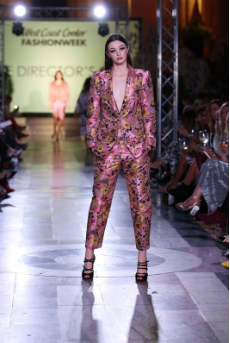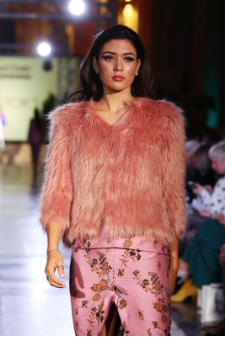 Left: Stefania modelling ASOS pink skirt, River Island pink faux fur jacket £85
Right: Maria modelling River Island floral pant suit
Left: Thandi models ASOS fringe beaded sequin mini dress 3150, New Look faux fur jacket £49.99
Right: Rebecca models ASOS purple/silver paillette jumper and Topshop silver trouser
George @ Asda:
George at Asda surprised me so much this year as they are KILLING IT with their A/W pieces. Heres a round up of my favourites: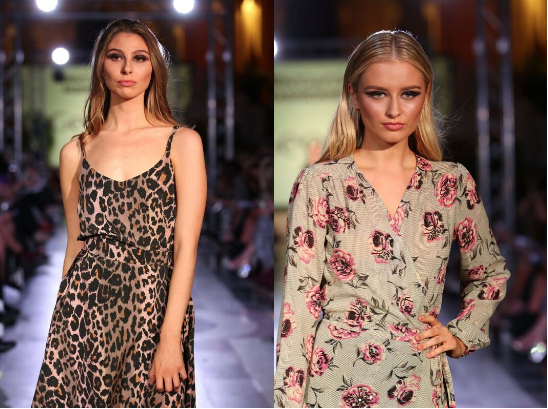 Other retailers involved in the fabulous show included Debenhams, Oasis and New Look, along with pieces from local boutiques such as Blush (Lisburn Road), Serenity Ten (Maghera) and Lily Rose Boutique (Moria). If I could sum up what I've learnt about the coming A/W trends from this years BFW in three words, they would HAVE to be; blocks (colours), prints and sequins! 
I hope you've enjoyed my fashion favs from the show and hopefully it inspires you to  go and treat yourself (or that special someone) with something fresh and fabulous this season. So go on! Go out and support your local highstreet and boutiques this Christmas, it couldn't be a better time to go shopping!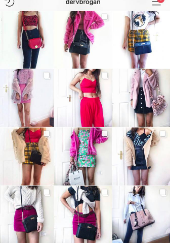 Lots of love, Dearbhail (CAM Student UUJ / Wannabe Blogger) xoxo
P.S: If you love fashion as much as me, be sure to follow me on Instagram @dervbrogan where I post outfit photos daily!
Photo Credit: Brendan Gallagher (Photographer)
Event Credit: Cathy Martin (CMPR)
Dearbhail Brogan is a Second Year BSC in Communication, Advertising & Marketing student at Ulster University. She can be found on: Instagram – @dervbrogan ; Twitter – @dailydeeblog