As appealing as the full moon parties appear, I did Thailand slightly differently. I ventured on a three week expedition that would promise adventure and an unforgettable cultural experience.
After completing the application process and being successful at the interview stage, it was a countdown until I jetted off to Thailand with World Challenge.
World challenge is an organisation that provides exhibitions for students who want to step outside of their comfort zone and explore the world. Their exhibitions offer trekking, culture highlights, a community volunteering project and adrenaline activities.
When accepted onto the programme, a condition of World Challenge was that I had to fundraise money before going on the trip. This was challenging and it was achieved through holding various coffee mornings, selling cakes and other treats at my sporting matches on a Saturday morning, pub quizzes, partnering with numerous local business to produce a hamper gift set for a raffle and doing sponsored events, such as abseiling.
I could not be prepared for the trip I was about to embark upon. It was truly an eye opening experience that provided me with the thirst to want to explore the world and help those in need and less fortunate than us. The exhibition was divided into 3 sections, adrenaline activities, R+R and cultural immersion, trekking in the rain-forests for 7 days and undertaking a volunteering project.
Thailand is an amazing country with so much culture to offer. We immersed ourselves in the way of living and paid visits to temples and shrines, great abandoned temples, met monks, excited our taste buds with the vibrant street food and explored up and down the country by travelling on night trains.
We visited beautiful waterfalls, elephant sanctuaries and hot springs and completed adventure activities such as white water rafting.
The trekking phase of the exhibition was challenging both mentally and physically. We were trekking in extremely humid conditions for 8 hours a day in the jungle, off the beaten track. We were led by 2 Thai men, who, at night would teach us the authentic Thai way of cooking.
During this phase we stayed in hill tribes, made hammocks that swung between two trees and found shelter along the way. We encountered tarantulas, elephants and plenty more wild animals. It was a real Bear Grylls experience as I found myself snacking on insects (gross I know- but when everyone around you is doing it, it becomes the norm.)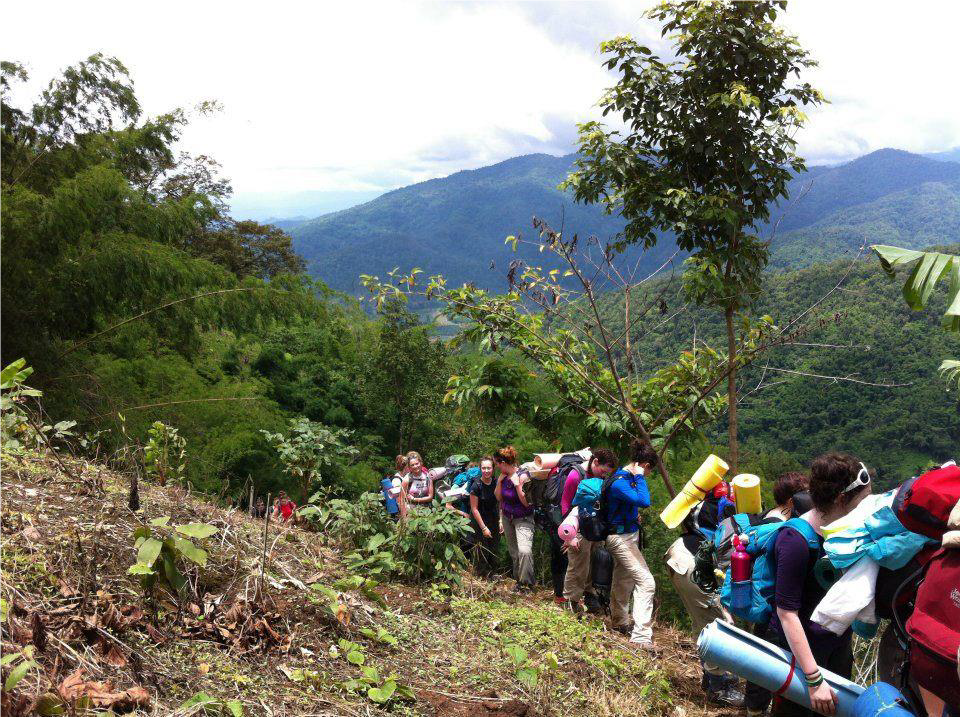 The final phase of the exhibition allowed us to yet again live alongside a local community in need, and being involved in powerful initiatives to collaborate with the community to make a difference. During the volunteering project our group helped to finish building a house for a family to live in. We also worked at a local farm for a number of days, packaging produce, feeding and taking care of the animals and helping them become more efficient in their technique and improve sanitation. We visited a local school and got to spend time with the underprivileged children and we were introduced to a woman who designer clothes in the area to try and support her family.
This trip definitely fed my desire for adventure and left me wanting more! If you thrive off of adventure, trying new things and helping people then an exhibition style trip is exactly what you need to do.. You won't regret it!
Rebecca Reid is a Final Year Communication Management and Public Relations Student at Ulster University. She can be contacted on twitter @Rebecca12reid and on Linkedin: https://www.linkedin.com/in/rebecca-reid-64b580153/