Since my last political post faired out so well, I have decided to continue to include my own opinion on the going-on's in Northern Ireland's ever-changing political landscape.
If Facebook was invented during the Troubles, I can only imagine that the war would have been fought with a keyboard instead of with guns. As social media has grew in popularity, a steady decline of humility and feeling has occurred. This negative correlation showed itself to me firstly when Margaret Thatcher died, as thousands flooded my timeline to show their courtesy – yet simultaneous disrespect – to her death.
However, on 21/03/2017, I was genuinely shocked to come on to Facebook and Twitter, and see so many disgusting comments at the death of Martin McGuinness. A man without whom Northern Ireland would still be very much stuck in the 1980's.
As Margaret Thatcher is the only person who comes to mind when trying to compare the two political giants' deaths, I must remind you of the background of each character.
Baroness Thatcher came from a well-to-do family and grew up in a quiet market town in Lincolnshire. Martin McGuinness was raised in the Bogside of Derry City, which to those who haven't studied an ounce of NI history (half of my Facebook timeline), was a highly deprived area where Catholics were discriminated against at the electoral polls and at the housing executive. He left school at the age of 15 and without the right education behind him to express his anger at the British Government through speech, he delved into the violence that was rife at that time throughout NI.
I found this tweet sums up a great deal of Martin McGuinness' early years.
If telling Martin McGuinness' story, don't start at his joining the IRA. Start with the wretched, violent, bigoted state forced upon him.

— Senator Niall Ó Donnghaile ⭕️ (@NiallSF) March 21, 2017
This is not a post to make excuses for McGuinness' early years, when he was obviously under the influence of the romanticised Irish patriots of the 20th century, but instead a post to commemorate his final 20 years where he pushed for change for Northern Ireland.
The progress he made throughout his political career is unparalleled – being the chief negotiator for Sinn Fein and Irish republicans through the 1998 Good Friday Agreement, and staying with the power sharing Executive throughout its 19 year period. He too had to make compromises when dealing with the opposition who he fought with violence so vehemently just years previously. His warm and witty personality caught the attention of US President Bill Clinton, who spoke at his funeral.
The most poignant part of Clinton's speech was when he mentioned Nelson Mandela. The South-African freedom fighter has come to epitomise peace and revolution – despite being involved in similar militant tactics as a young man. Clinton said that in a conversation with Mandela, Mandela told his people "if I can get over 'it' you can too, we have got to build a future", which is exactly the attitude Martin McGuinness had when realising that until republicans and loyalist sides learned to move forward together, they wouldn't move at all.
If the Queen can shake Martin McGuinness' hand although he was head of the IRA when her cousin Mountbatten was murdered by them – then surely everyone can pay respect to him (or perhaps not react at all), because after all he is a human being.
It is easy to judge someone when you only see them in black and white. But when I think of Martin McGuinness, his past reflects a rainbow of triumphs and turbulence.
Martin McGuinness "expanded the definition of 'us', and shrunk the definition of 'them"
– Bill Clinton.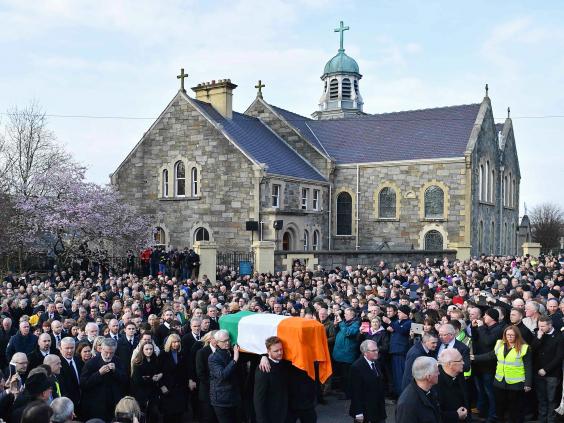 Shannon Quinn is a 2nd year CAM student at Ulster University. She can be contacted on LinkedIn at https://uk.linkedin.com/in/shannon-quinn-556236132 and on Twitter @ShannonQuinnPR.