The golden doors opened and once again the stage was set. Out into the light stepped Donald Trump, he paused to enjoy the adulation while the watching cameras went into overdrive, or maybe that was just the sound of the White House PR machine ratcheting up another notch. A quick fist pump and he was on his way, down the steps, patting the handrail with gusto, as if to say a health strong man like me needs no rail.
His armoured cavalcade was waiting at the bottom of the steps and there was just time for another fist pump and a quick thumbs up before climbing into his chariot to be whisked away on a journey of 50 whole metres to Marine One. Then it was off into the air for a triumphant return to the White House.
Touching down on the South Lawn, we got more fist pumping, thumbs up and waving before Trump, basking in the press attention, ascends the White House steps for another photo op on the balcony, this time whipping of his mask and patriotically standing beside the stars and stripes in a show of strength and defiance.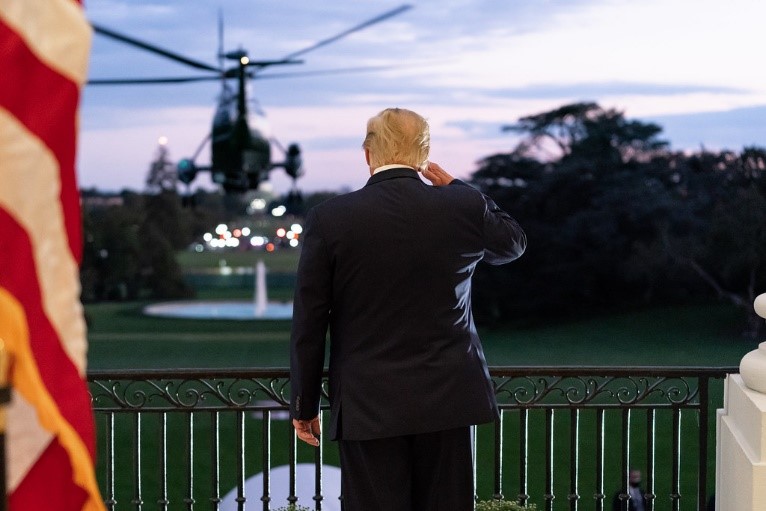 His return to the White House could have come straight from a TV drama, the returning presidential hero coming to save the nation! Trump is very aware of the power of images in the media and the message they send to the American public. I have no doubt that was why, during his hospital stay, he went on his slow joy ride around the hospital, waving to his supporters when he should have been isolating and not risking the lives of his security team in his hermetically sealed SUV.
The reality TV star, with one eye on the presidential election and scoring points with the American public, clearly, believes that somehow, he is showing strong leadership by putting the office of President above his own health. Downplaying the fact of having COVID-19 with all the risk and serious consequences that can have.
Donald Trump with groundless confidence told us "Don't be afraid of Covid".
Did the White House PR team really think this was a good idea?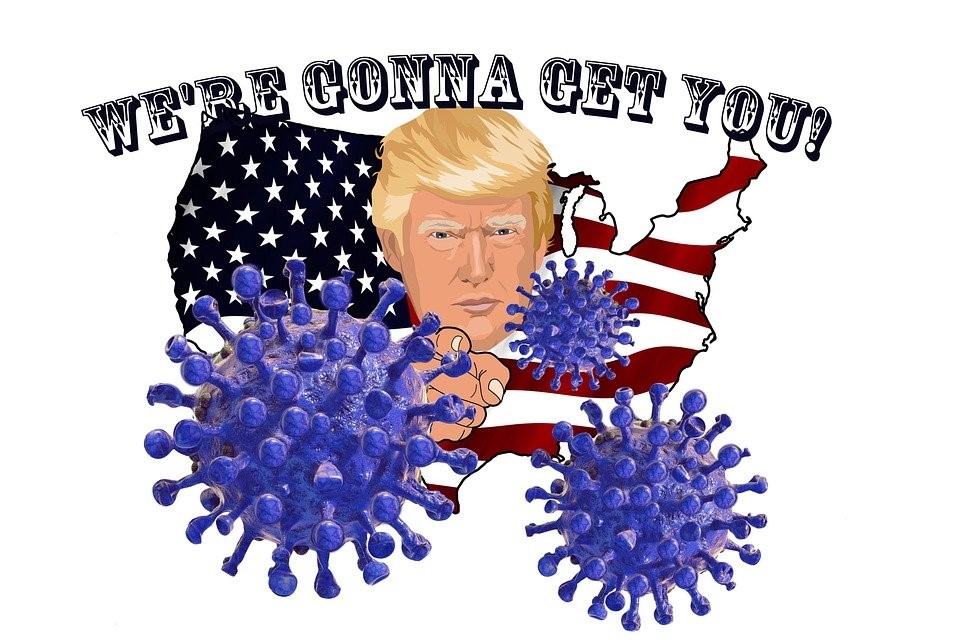 Political analysts have pointed to Trump's record on Coronavirus over the last year, and the fact that he is vulnerable in relation to his handling of COVID-19, as evidence suggests that many Americans are now critical of how he is handling the pandemic. Does Trump believe that if he downplays COVID-19, as someone who has had it and made the most amazing, wonderful and beautiful recovery, he can show the American people that the virus is not as bad as everyone is making out, and that his actions over the last year in handling COVID-19 have been correct? On the other hand, Trump received the best drugs and medical treatment available in the world and sure only very few Americans can avail of these services, this strategy might well backfire on Trump.
Is Donald Trump really stage managing his COVID-19 diagnosis to help get himself re-elected?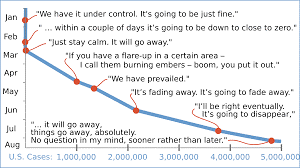 Trump has ignored official medical advice on COVID-19, and the White House staff seem to be following suit by not wearing face masks. Joe Biden was even mocked at the first presidential debate by Trump for regularly wearing a face mask.
Maeve Reston from CNN reported in May that the White House has ramped up the PR Campaign to improve America's perception of Trump's handling of the Coronavirus. Was the White House trying to move the focus away from Trump's poor handling of Coronavirus over the last 10 months and on to the economy? Trump at the press conference used the same old platitudes along with announcing "Operation Warp Speed" to get a vaccine and the Obama administration was once again blamed for most of Trump's failings.
Chris Cillizza from The Point commented "Donald Trump can't distract voters from coronavirus now".
The White House might have to rethink its PR strategy, or maybe it already has as Trump is now embracing Coronavirus, announcing his diagnosis was "a blessing from God", and his eyes have been opened to the treatments available, and he intends to make sure, that all Americans will be able to have free access to these drugs by the end of the year. Is this just an empty promise to boost the election campaign? Trump's sudden conversion to free universal health care in respect of COVID-19 for all Americans sits awkwardly with his policy of opposing and dismantling Obamacare – America's first tentative step towards universal health care provision for all its citizens.
Can you imagine the dilemma the White House team have in trying to manage Trump's image as a responsible leader against his unfettered ego which knows no bounds medical or otherwise?
Washington Post columnist Paul Waldman wrote in August "After all this death, Trump is still treating the pandemic as a PR problem."
In my opinion, I think that Donald Trump is now using the pandemic and his COVID-19 diagnosis to further his election campaign.
Is this a good PR strategy to get a reality TV star re-elected as the US President?
Will the viewing public of this reality nightmare think he is doing 'a really great job'?
I think not, it may be a case of "your fired".
Kerry Bradley is a final year BSc Communication Management and Public Relations student at Ulster University. She can be found on: Twitter – @kerryweat and Instagram: kerryweat.