Disclaimer: The author of this post is expressing their opinion, try not to be offended!
We are well and truly living in Generation Snowflake. The term has undergone a curious journey to become the most combustible insults in this decade. It emerged a few years ago on American campuses as a means of criticising the hypersensitivity of a younger generation. You can almost guarantee that in any one sitting on Twitter, you will come across a tweet about someone being offended by a company or by a product for some social justice reason.
Recently there have been numerous instances were there has been outrage at things that are seen to be normal in our society. While the list is exhaustive, for the purpose of this post I will focus on Kleenex's TissueGate, "The Problem with Apu" and recent outrage at classic Christmas songs.
TissueGate
In October 2018 Kleenex had released a box of tissues and had branded them "Mansize" to indicate their extra size. Twitter user @LisaMHancox pointed this out in a tweet to the company saying, "Hi @Kleenex_UK. My 4yo son asked me what was written here. Then he asked, why are they called man-size? Can girls, boys and & mummies use them? I said: I don't know & yes of course. He suggests you should call them "very large tissues". It is 2018."
The tweet gained traction and after a while Kleenex responded by taking the product off the shelves, but the issue remained, are we to change every nuance in our language to conform to modern gender norms? Is this sustainable? Does it really make a difference to anyone's life if we change to name of a manhole to a mixedhole?
When I first seen the tweet I thought to myself there was no way her son said that, and would she really go as far as to use the fake emotive appeal of her son's voice to make a point. When I went into the replies I expected her to have unanimous support but was shocked to see that she had a mixed response of ridicule and support. Arguments against her being very PC were made and people had begun to question if her son had really said that and before you know it, it had become a trend on twitter for people to tweet as if they were their sons, daughters or even animals for comic relief. It was the first real instance I had seen the majority of people responding negatively to a post criticising the standards of something from today, and I was surprised to see the swing in opinion.
My problem with "The Problem with Apu"
In 2017, Indian-American comedian Hari Kondabolu released a documentary called "The Problem with Apu". The documentary discusses the character of Apu Nahasapenapetilan from long running animated series The Simpsons. From his perspective he talks about the caricature of Apu as the only South Asian TV character gaining national coverage on American television as he was growing up, and that show employed racial stereotypes in having him work at a convenience store with his trademark saying being "Thank you, come again".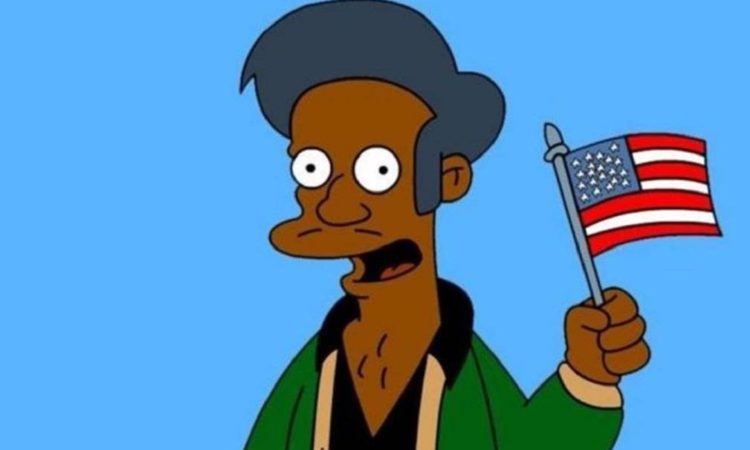 The release of the documentary led to unconfirmed report from a former executive producer of the show claiming that the character would be cut as a result of the documentary. Again, this lead to a firestorm of opinions on Twitter, with many saying that Kondabolu was raising points that people were too afraid to bring up during The Simpsons heyday in the 90s. People argued back saying that The Simpsons stereotyped Apu in a positive manner; as a family man dedicated to his religion and as someone who was seen to have a tireless work ethic. My problem with this documentary is the fact that no body ever brings up the fact that nearly every character on The Simpsons is a stereotype; Homer is an alcoholic middle aged white man who beats his son, Willie is a haggard Scotsman who makes little sense, Luigi is the owner of a pizzeria, but there is very rarely light shown on the racism if the person's skin is white.
Censorship of Christmas Classics
While it goes down as the undisputed champion of Christmas Songs in my eyes, "Fairytale of New York" by the Pogues in 1987, comes under scrutiny more and more each as year as we delve deeper into this decade. The raspy Christmas song is memorably sung by Kirsty McCall and Pogues singer Shane MacGowan, in which they depict a couple of lovers who seem to have fallen in and out of love with each other.
A particularly nasty verse in which MacGowan's character calls McCall an "old slut on junk" to which she famously retorts with "you scumbag, you maggot, you cheap lousy faggot" is sang with particular glee, which pays more testament to the fact that Irish people have a self-depreciating love of insults as opposed to a love of homophobia.
The Tab in Dublin and RTE DJ Eoghan McDermott recently called for censorship due to the word "faggot" that is used, a pejorative word for homosexuals. Arguments have been made that in the context of the song the slur means a lazy person, with MacGowan himself saying that the character singing the words is a nasty person trying to question the man's love for her.
A cheap, lousy faggot.
Being a straight, white, Irish person, I have never experienced any discrimination, and probably won't, other than being stereotyped for loving the drink, which, to be fair, is an accurate stereotype, but this means I will never understand the pain of hateful words being directed at my identity. I understand that there is no place for stereotypes or racial or homophobic slurs in today's society, but I feel strongly that things that were made during a certain time when attitudes were different, should not be boycotted today knowing how people thought and acted when they were made. Sure, if a song is released today containing slurs against people of an identity, boycott it, but don't ruin Christmas by demanding that classic songs be taken off the air.
The next person who tries to get "A Fairtytale of New York" off the air.
Christopher Hynds is a final year BSc in Communications Management and Public Relations student at Ulster University. He can be found on Twitter: @chrissyoheidin ; LinkedIn: https://www.linkedin.com/in/christopher-hynds-a60531162/