In another colorful news week, the president was accused of what's called "slut-shaming" when he fired out a tweet at New York Senator Kirsten Gillibrand. After tweeting about the president and his shortcomings in a series of multi-day statements, Senator Kirsten Gillibrand implied that the women behind the curtains of Trump's past sexual assault accusations should come back into the spotlight.
Once Trump, or his team of PR agents, read the series of tweets, President Trump had his own response to send to the senator. In the tweet, Trump states, "Kirsten Gillibrand is someone who would come to my office begging for campaign contributions not so long ago (and would do anything for them)." Although some Twitter users are stating that one's mind needs to be "in the gutter" to interpret that tweet sexually, others are arguing it's a very blatant slut-shaming attack on a high-ranking female political representative in our country today.
Trump's Accusers
To date, there are 17 different women who have come out and made their case for inappropriate touching and comments made by the past reality television star. Working together to make their voices more nationally heard these women took to Twitter to rally the troops and share their individual stories and encounters with the president. Joining them was Senator Gillibrand, who although she does not have a personal story regarding the president, was passionate about the act of empowerment that was sweeping through the ranks of afflicted women.
In response to Trump's tweet, Gillibrand stated, "I will not be silenced." Much like the cases that are going down right now against the likes of Harvey Weinstein and Kevin Spacey, no one is safe from the accountability that victims are holding their accusers to today. Gillibrand stated she felt that Trump should be no different, as she has held a same standard to President Clinton today, whose accusers are in the dozens.
This past Tuesday, 59 female members of Congress urged the House Committee on Oversight and Government Reform to investigate misconduct claims against Mr. Trump. Spurred into action by Senator Gillibrand's public slut-shaming, the people who are demanding social justice are growing in numbers.
Protective PR
However, as we have seen in the case of Hollywood, individuals in the limelight come with a certain protective public relations sphere that keep them from being held truly accountable for what they have done in the past. Since the majority of predators are being exposed in their 60s and 70s, these men have been able to keep their history of sexual assault hushed until today. Arguably known as a protective PR stance, it certainly looks to be the case for the likes of President Trump.
And then there comes the case of slut shaming. Known as the action of stigmatizing a woman for engaging in behavior judged to be promiscuous or sexually provocative, the debate remains regarding the interpretation of Trump's tweet and its plausibility.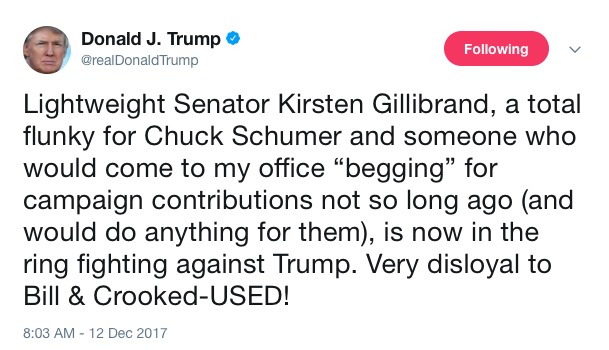 Slut-Shaming
You are probably forming an opinion right now about how you interpreted the tweet and what Trump meant by it. If there's one thing we need to remember to be fair in assessing the news, it's that we can't jump to conclusions with the intonation of his tweet, although acknowledging that it could've been malicious in nature. Either way, the war on women continues, and tweets like that from the Commander in Chief to high-ranking officials in our nation sends a bad sign to citizens and most importantly, young girls with hopes and dreams of being respected one day.
Much like Hollywood is doing right now, politics needs to incorporate an element of accountability for past actions committed against women, as well as men. Mr. Weinstein has a list of 50-women and counting, all accusing him of various types of sexual harassment to assault. Leveraging national PR to his aid once more, Mr. Weinstein apologized in a statement that managed to dilute the message and make it more about overreaching actions than his actual intentions and law-breaking behavior.
If we are to prevent this kind of "norm" from happening again, we must hold these individuals to a higher standard. Famous PR protection is something that needs to be monitored more closely. Slut shaming, no matter the intention or deliverer, should never be tolerated, which Congress is taking very seriously right now. As the debate heats up regarding big name offenders in our world today, we are seeing that no one is safe. Protective PR can only go so far when the voices grow in strength and number, and thanks to social media, they are able to do just that today.
As for Trump's tweet, do you believe he was slut-shaming Senator Gillibrand?
Nicole Devlin is a final year Communication, Advertising and Marketing student at Ulster University. She can be found on LinkedIn: https://www.linkedin.com/in/nicole-devlin-29342364/